After reading this post you will be able to solve / fix " USB Device not recognized " error message that is displayed on your Windows Computer system. Windows 7 & VISTA Hotfix link inside. Microsoft FIXIT for Windows XP ( Link Inside )
There are quite a few causes for this problem to occur. Following are some of the resolutions that we have come across while troubleshooting Windows over time. These solutions are applicable on Windows 7, XP & Vista.
Uninstall & Reinstall USB Root Hub
Go to device manager ( Control Panel ), Windows 7 users can type device manager in the start menu search box & open the proper program from the results displayed.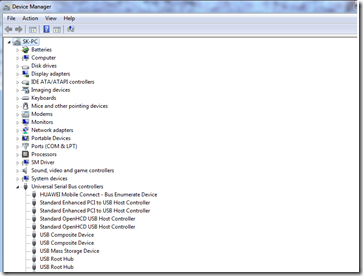 Expand Universal Serial Bus controller options
Right click on USB root hub ( one at a time ) & click uninstall.
Remember if you are using a USB keyboard/mouse or any devices that use USB interface might stop working.
Restart your computer.
If the problem persists
Turn off Power Management in Windows
Click Start, click Run, type Devmgmt.msc, and then click OK. The Device Manager window opens.
Expand Universal Serial Bus controllers.
Right-click a USB Root Hub in the list, and then click Properties. The USB Root Hub Properties dialog box is displayed.
Click the Power Management tab.
Click to clear the Allow the computer to turn off this device to save power check box, and then click OK.
Repeat steps with all USB Root hubs available.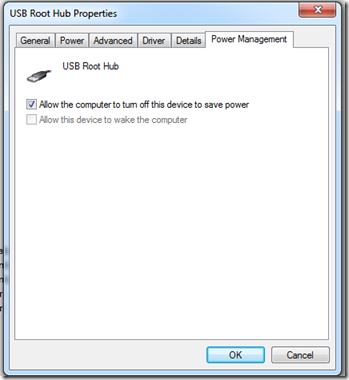 If the problem persists
Go to, your computer/motherboard manufacturer's support website & from there download and install latest chipset drivers from there.
Install these drivers & restart your computer
If the problem persists
Go to, Windows Update ( Control Panel )
Update your Windows with all recommended updates & check if there are any hardware device drivers within optional updates, Install them as well.
Windows 7 & Vista Users HOTFIX
http://support.microsoft.com/kb/976972
FIXIT for Windows XP users
http://go.microsoft.com/?linkid=9740816
The Last Step for Laptops ( All Portable Devices with removable battery/ Desktops
Portables:
Turn off your Computer
Take the battery out carefully, refer the documentation that came with your computer.
Press & hold the power button for a few seconds.
Put the battery back into the compartment
Start the computer and check
Desktops:
Turn off your computer
Pull out the power cord from the mains or backup unit ( UPS )
Maintain no power policy for 2 minutes
Restore power to the computer unit
Start your computer to check.