After reading this article you'll be able to understand different reasons for your computer screen ( Monitor – CRT/LCD ) to show no display. It might go black within Windows, blinks, system hangs etc. Here are a few reasons that might be responsible:
Faulty Graphic/Display driver
Corruption within system file
Virus/ related Malicious software
Bad Memory ( Faulty RAM modules )
Faulty Power Supply (SMPS)
Faulty Monitor
Here is How you can try & fix them.
** Check for Loose Cable Connections.
**The Easiest way to fix any system file/driver corruption/ virus problem is to use System restore. This will return your computer to the state where it was working fine.
To use system restore:
Start Menu-> All Programs-> Accessories –> System Tools-> System Restore.
Now select from the available checkpoints & make sure you select the one when your computer was running ok.
The Regular ways
The First the foremost thing to check is your graphics/display drivers. For this the easiest way is to go to your system manufactures website & downloading the latest drivers from there. You can also check Windows update for getting new drivers for this go to Device Manager
Control Panel –> Device Manager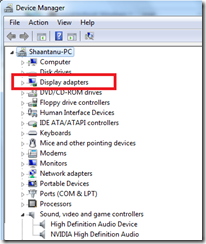 Click on the display manager and right click on the hardware shown therein & click on update driver software. Windows will then search for the best possible drivers for your hardware and install them.
Note for Windows XP users.
Find out your display card Manufacturer. examples : nVidia, AMD-ATi, Intel, SiS, VIA etc. & downloading drivers from their respective support websites.
Checking for Corruption in system files
To do this, keep a Windows disk at hand & insert it into the CD/DVD drive when prompted.
go to run & type : SFC /SCANNOW   press enter
Windows will now check all you system files & repair if necessary.
Checking for Virus or same DNA malicious software
Use any good quality Antivirus or total security programs available out there.
*my suggestion : Microsoft Security Essentials – free for Genuine Windows users.
Quick resolution if your system is unresponsive due to bad drivers/system file corruption.
If your system hangs just after logon or at the welcome screen, press CTRL+ALT+DEL or right click the taskbar & click on Task Manager.
Now, go to processes tab & look for explorer.exe & end it. Then, go to the Applications tab and click on New task, type in Explorer.exe and press enter.
Note: After this it is essential that you either use system restore & check for new drivers.
Checking for Faulty Memory (RAM)
Many times Faulty/BAD or even incompatible Memory module leads to problems like these. If you RAM module is new, it's always a good idea to return in back & check your documentation for compatible Memory Modules.
If your system is suddenly behaving erratically, you should then use the Memory Diagnostics tool built into Windows 7. For this press F8 during boot and a menu should show up. Select Windows Memory Diagnostics tool & press enter. This will take a while and run some diagnostic tests on your Installed RAM.
You can also do this from within windows 7. Go to start menu & type : Windows Memory diagnostic & click on the program that shows therein. A screenshot of the program windows is given below: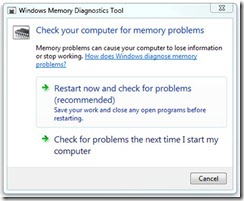 Windows XP users:  Can use third party tools for Memory diagnostics or if you are ok with opening your computer up, Try Changing the memory modules or if you have multiple modules try taking one out & check for errors, repeat if needed. * Please do at your own risk.
Checking for Faulty SMPS
Note: If you suspect a faulty power supply (SMPS) & you are not confident on opening your computer up (Desktop) you should take your system to a professional & get it checked there.
If you Know what you are doing, Open up your desktop cabinet & try removing any hardware that is optional, E.g DVD drive, PCI Add-on cards, Graphic Card etc. etc. & then check if the problem persists. Replace the SMPS if necessary.
Checking for faulty monitor
If, nothing works out it's best to check if your monitor is ok, try plugging it into either your laptop or in a friend's computer system or get it checked by a professional.