Group Policy editor is something that a lot of us know about, but how many of us do really use it a lot ? I am going to tell you a small trick to use a common default logon picture for all users in Windows 7. ( This also applies to Windows Vista ). Now first you must have a picture ready to put as the default logon picture. Select a pic and then place it at C:\ProgramData\Microsoft\User Account Pictures. Replace the guest.bmp file with your picture.
Now , go to start menu and type gpedit.msc or group policy editor and it will show up as the search result. Open it & navigate to :
Computer Configuration -> Administrative Templates -> Control Panel -> User accounts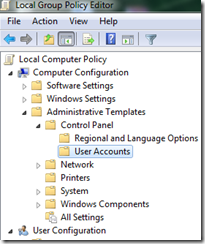 Double Click on user accounts

Now click on the Apply the default user logon picture to all users and you will see this :

Now Click on Enable and it's all done.