Microsoft, the big software giant is well known for its range of products from Windows, Server, Office & Internet Explorer. Every big leap over the years has led to something new & useful for the software masses. Many of us know about the browser wars in the 90's and about the success of Internet Explorer in the market. Way back in 1995 when IE was first introduced as a add-on with Windows 95 Plus! Pack, From then Internet Explorer has come a long way down the line and has transformed the online world to a common gateway for users around the world. People got a Platform that made internet accessible for them.
If we talk about the development and starting point for Internet Explorer, it goes back to 1987 when Mosaic was developed, Which was in fact the first web browser to use the graphical user Interface. Mosaic belonged to a company founded in 1980 called spyglass who later licensed the source code for Mosaic to Microsoft and we got our very own Internet Explorer. Since then IE has come a long back and now is the most secure and fastest browser anyone has ever used. Let me share with you the past which has given us the browser we call IE9.
Internet Explorer 1
Internet Explorer 1 came out with Windows 95 as a add-on ! IE 1.0 used to be just over 1 megabyte in size and enabled the user then to surf Internet easily. IE then didn't had anything like a video or music playback option or even reading newsgroups or viewing graphics was not possible. Here goes a small preview of IE back then :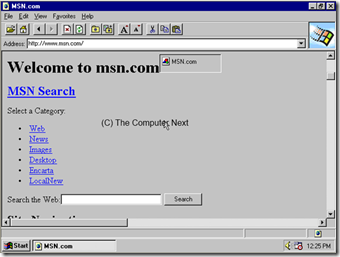 Internet Explorer 2.0
Soon after Internet Explorer 1.0, came Internet Explorer 2.0 within the same year 1995. Internet Explorer 2.0 included a lot more rich features like Support for JS (JavaScript), frames, cookies & designers tools for web developers to design much more secure and media-rich websites with tracking abilities. Internet Explorer was the very first cross-platform browser supporting both Windows & Mac.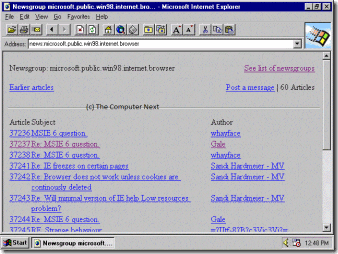 Internet Explorer 3.0
Following the lead of Internet Explorer 2.0, the next year 1996 Microsoft came out with new & improved web browser which offered Internet mail & News 1.0. Internet Explorer revolutionized the world & more than 32000 copies were downloaded in the six hours of its release. More than 1 million copies were downloaded within the first week itself. Internet Explorer 3.0 was also able to display graphics and play audio file which was a big deal back then.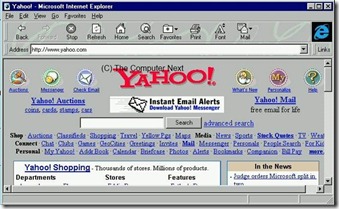 Internet Explorer 4.0
The very next year after the release of IE3.0 came Internet Explorer 4.0. With the release of IE4.0 Internet came to life when menus expanded with a click and images could be dragged. Active desktop was a Unique feature included in Internet Explorer 4.0 which enabled users to display Internet content on their desktop & used to update automatically as the content changed.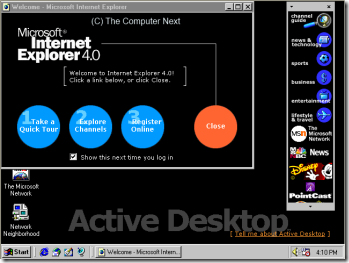 Internet Explorer 5.0
The Year 1999 came with a new era for browser industry. With the release of Internet Explorer 5.0 & its expanded programming capabilities e-commerce got supported. IE5 also supported bi-directional text which made IE5 the first ever browser to feature this important update for the International users who's languages were written from right to left.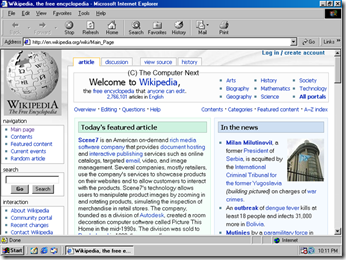 Internet Explorer 6.0
Internet Explorer 6 released in 2001 being a major change to how browsers behaved. IE6 attained a total market share of 90% during 2002 -2003. IE6 became the most widely used browser during its tenure surpassing IE 5.0. Internet Explorer 6 had Auto Image Resize, Images toolbar, Print preview and Media bar making it the entire Fun browser. IE6 came as the default browser with Windows XP. Some People around the world are still using IE6 which is on its countdown.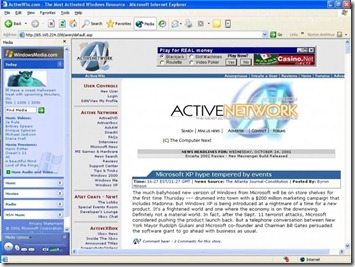 Internet Explorer 7
Internet Explorer 7 was a major update to how users surfed the web. IE 7 gave new dimensions to secure surfing with phishing filter, better & stronger Encryption. Internet Explorer 7 had a delete browsing history button which made Internet Privacy better in its own ways. Internet Explorer 7 also introduced tabbed browsing that helped users get more in less time. Internet Explorer 7 gave its users the true Web 2.0 experience.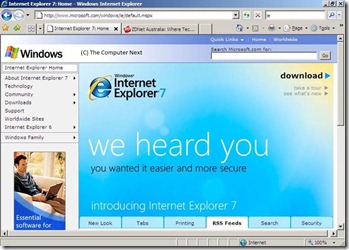 Internet Explorer 8.0
The year 2009 came with one of the most secured browsers the IE8 that has revolutionary security and privacy features like InPrivate browsing & SmartScreen Phishing filter protection. Internet Explorer 8 introduced some great new features like Web Slices, Accelerators & automatic tab crash recovery. IE8 still being on the market and being one of the most commonly used browsers changed the way we surf Internet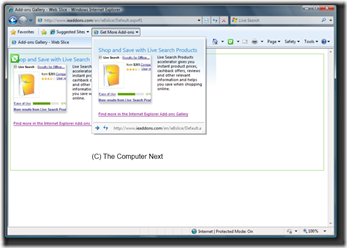 Internet Explorer 9
Windows Internet Explorer 9 has a streamlined look and many new features that speed up your web browsing experience. IE9 features new browser controls. You can find most command bar functions, like Print or Zoom when you click the Tools button and your favourites and feeds appear when you click the Favourites button. Internet Explorer 9 also enables you to Pin your most regularly used websites to taskbar. Internet Explorer 9 also features a download manager that helps you download and keep track of all your downloads.
Internet Explorer 9 supports several CSS3 properties and has improved JavaScript performance. IE is also the first hardware-accelerated graphics, text & video rendering browser. IE9 also supports HTML 5 standards and has Web Open Font Format.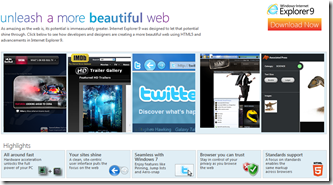 Internet Explorer 10
Internet Explorer 10 is the next & latest version of IE that is available right now with Windows 8 operating system as a default Install.
IE 10 has refined all the features of IE9 & adding features like Adobe Flash Integration. IE 10 also has a Windows 8 UI type browser edition and a standard one.
As Interesting feature in IE 10 is called Flip Ahead, that enables a user to view a multiple page website easily, letting the user to flip through pages instantly.
Internet Explorer 10 "Windows 8 UI" or "Metro" Screenshot