After reading this guide you will be able to fix an issue with your Windows 7 computer, where you get a Blue Screen error or BSOD / Stop error at the time of booting.
The error code would look be something like this :
STOP 0x000000ED (0x00000, xxxxxxx, xxxxxxx) UNMOUNTABLE_BOOT_VOLUME
What to know about BSOD, STOP errors:
Click here
What to do when you cannot start Windows at all
Click here
Fix:
Method 1:
Insert your Windows 7 Repair Disc or Installation Disk into the DVD Drive
If you do not have a system repair dis, Windows Installation disk will also do

Follow this guide to make a Windows 7 Repair Disk

If you do not know how to boot from a bootable disk

Press Del or F10 or any other key that enters your BIOS
Find the boot options
Set your DVD drive as the first boot device
Save & Exit

After booting from the Windows Installation Disc or Repair Disc
Click on Repair
Select Command prompt
type chkdsk drive: /f
type chkdsk drive: /r  ( replace drive with your drive letter, example: C: , D: )
Let Windows finish checking and repairing your disk.
Refer Screenshot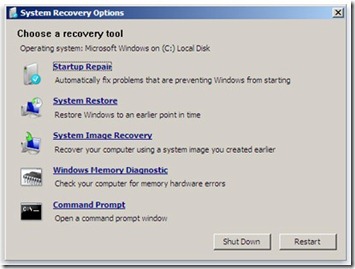 Method 2
You can also use system restore from the above menu to restore your computer to an earlier time
Method 3 : Rebuild your Boot Configuration Data (BCD)
Boot from the Windows DVD / USB
Click on Repair Your Computer
Select your Windows Installation
Click Next
Click on Command prompt or press Shift + F10
type bootrec /rebuildbcd
You will get a message saying " The operation completed successfully"
Restart your computer
Method 4
If you are a tech savvy person & opening your computer is a part of the fun
Open your computer,
Take out your hard disk drive
Attach it to a external enclosure or plug it into another computer running Windows
Go to Computer
Check if the drive is shown here
Right Click the drive
Click on properties
Click on Tools
Click on check now
Check the checkbox that says " Automatically fix file system errors"
Run the scan
Plug your hard disk back into the your computer
Check if the problem is solved.