How to open PNG files in Windows 10 is a very common question asked by lots of people out there.
Are you too wondering about how to open files with the PNG file format?
Then here we are with various methods to open PNG files on systems powered by the Windows 10 operating system.
Also Read —> How to Switch to a Windows 11 Local Account from Microsoft Account?
What is PNG File Format?
The Portable Graphics Format or PNG as it is called is a very popular image file format.
PNG is an open-source format that replaces the GIF file format as it contains image data with lossless data compression.
The PNG format can also display backgrounds that are transparent. Moreover, such files can also hold grayscale images and 24-bit RGB palettes.
How to Open PNG Files in Windows 10?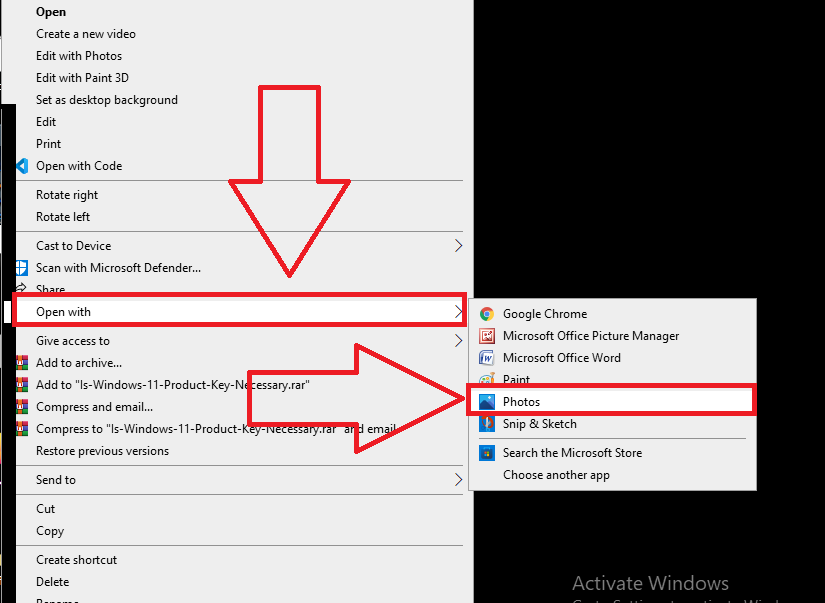 Below are some of the methods to open PNG files easily on systems running the Windows 10 OS.
Method 1: Launch PNG Files using the Photos App
Photos app is present in Windows 10 by default and can open all major file formats.
Navigate to the PNG file you wish to open.
Right-mouse-click on the file and then click on "Open With".
In the side menu that appears, click on "Photos".
Now, the selected image file will launch using the Photos app.
Method 2: Open PNG With Adobe Photoshop
Adobe Photoshop is a very popular software tool for image editing.
Photoshop can open all the popular image file formats including PNG.
If you wish to open PNG files using Adobe Photoshop, below are the steps to follow.
Launch Adobe Photoshop on your computer.
Click on the "File" option at the top left corner of the menu bar.
From the drop-down menu, click on "Open".
Search and navigate the PNG file that you wish to open.
That's it. Once you select the PNG file, the same file will be opened within the Photoshop window.
Method 3: Use the FileViewer Plus 4 Software to Open PNG in Windows 10
FileViewer Plus 4 is another popular software solution to open PNG format files in Windows-powered systems.
Not just PNG, but FileViewer can also open files with other popular formats such as TIFF, JPEG, TIF, RAW, ICO BMP, etc.
Apart from images, the FileViewer Plus 4 software can also be used to open and edit video files as well.
Method 4: Open PNG in Windows 10 using XnView Software
XnView is also quite commonly used by people who wish to open PNG format files in Windows.
Apart from letting you open & edit PNG files, the software also lets you convert PNG format files to other popular file formats as well.
As the software supports over 500 file formats, you can easily convert PNG files to any other format of your choice.
When it comes to editing features, XnView also supports all common functionalities such as the ability to resize, crop, rotate, etc.
You can also combine images to form slideshows, create web page designs, and more using this software.
Final Words
Do you have better software suggestions to open PNG files?
Then feel free to mention them in comments below.