After Reading this you will be able to know more about
Blue/Black Screen Errors
To find which error you are dealing with
To resolve the error
A Blue Screen or Black Screen error which is also known as BSOD occurs when Windows faces a serious problem & shuts down or restarts your system to protect it from damage. Sometime when you boot back into Windows you get a message that "Windows has recovered from a serious error".
There can be many different problems associated with both hardware and software that might case a BSOD. But, we cannot troubleshoot these errors if we don't know what particular problem we are dealing with.
To know which particular error/problem we are dealing with, the first step would be:
To disable automatic system restart on system failure
To do this, Press the F8 key while booting ( just after you press power button on your computer ).
Select the Advanced Startup options (Windows 7) & select Disable Automatic Restart on system failure.
This will restrict windows to not to shutdown/restart when the problem occurs.  At this moment you can note down the error code & more information displayed on your screen: Example screen below: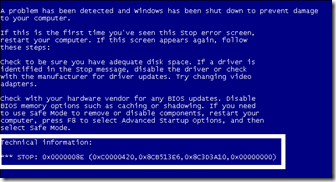 and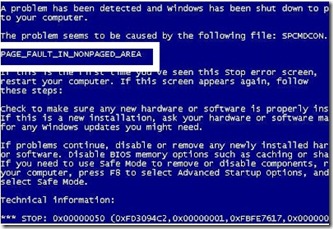 Both the screen grabs above have highlighted white portions. These are the significant piece of information that you must note down from your BSOD. This will help you narrow down you problem and then solve it.
Once you have the error code & description, search http://support.microsoft.com with the error code or search our website www.troubleshootwindows.com for more information on the error code.
Basic Steps to resolve the Blue Screen errors
Remove any newly installed hardware & uninstall the driver software associated with it. To uninstall the drivers you can simply remove the hardware first and then boot into safe mode and uninstall them.
Remove any newly installed software or antivirus program by logging into safe mode.
Use System Restore, to restore your computer to an earlier time when it was working fine. To learn how to use system restore click here.